Well, at least my opinion on it. :-)
I live in a to-do list every day. I track all work I do, and take all my notes, in a gigantic to-do list/outline. Here's my two level outline for writing this blog entry: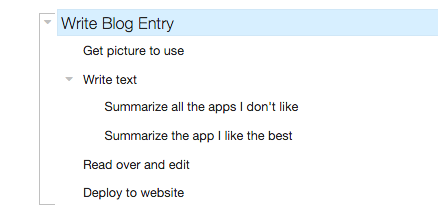 If you don't know what an outliner is, you should read a basic outliner intro.
For the past few years, I've been using VimOutliner, which is a Vim-based outliner. I've been mostly happy with it, except that it doesn't have hoisting (where you zoom in on only part of the outline), and it often forgets which parts of the outline I have expanded/collapsed.
So I decided to risk my sanity and look at all the major To-Do List applications and see if there's one that can handle my very specific set of requirements:
hosted in the cloud -- I can access it anywhere
support deep outlines -- I want more than 2 level deep hierarchies
support hoisting/zooming -- I can just zoom in on the part I'm currently working on
have a clean UI -- I don't want visual clutter
have an API -- I want to export my data for backup and so I'm not stuck in their cloud
Easy to reject this one, Wunderlist is not an outline, but just a two-level task list.
Any.do has a real clean UI, but it only has one level of subtask.
It's kind of weird that Toodledo has two-level tasks in one area, but outlines are in a separate section with separate data. But it doesn't matter, their outlines have a complex and busy UI. Next!
Evernote is very popular, but it's more about taking notes than outlining.
Trello just has one level of list. If it's not complex enough for my personal to-do manager, I'm not sure how people use it for project management. But onwards...
Asana is just like Trello -- you can have a list, and each list can have a list, and that's it! Two level hierarchy is the max.
Quire seems good, they have outlines, but with a slightly clunky UI. They seem to be in beta, and I don't see an export function or API.
Moo.do has a really clean UI. And they have complete audit history (awesome, most other apps here don't have that). And they have hoisting/zooming. But they seem to be in beta and don't have an API yet. Let's keep an eye on them.
This was a close one, but Todoist's interface was not clean enough for me. Specifically, it always shows a big radio button next to each item. I don't like that, since a lot of my entries are not to-do's but are just notes.
This was a tough one. Workflowy supports great depth in outlines, and hoisting. The only problem is that it doesn't have an API, so I cannot easily export all my data. Also, as of 2015 it looks like it's on life-support.
Uniquely, Dynalist has multi-level undo. And they're positioning themselves as a successor to Workflowy. But they have a slightly clunky UI: they always show checkbox and bullets. And they don't have an API. Keep an eye on them in the future.
The Winner
Wow that was a big list. And this isn't even a comprehensive list of To-Do apps out there. But there was one product I found, which had all the features I need:
cloud-based
deep outlines
hoisting/zooming
clean UI
API
And the winner is ...
Checkvist does everything I need, and I've been using them for several months quite happily. They've been rock-solid. In fact, the screenshot at the beginning is a screenshot from Checkvist.
As a bonus, they allow sharing lists with others. Also, they have great support. They're a small company, which is fine by me.
Honorable Mention
In any article on outliners, I have to mention Dave Winer, whose Fargo outliner is free and mostly open source.